Violinist, Conductor, Teacher, & Composer
An Award-winning International Musician in the New York - New Jersey  area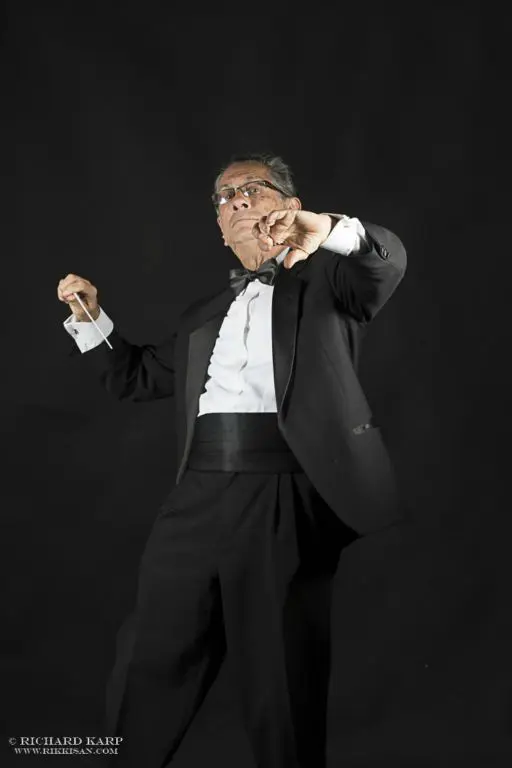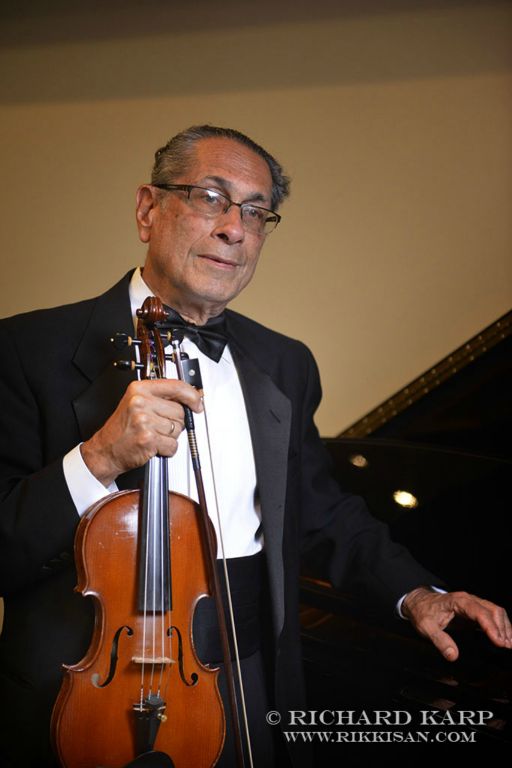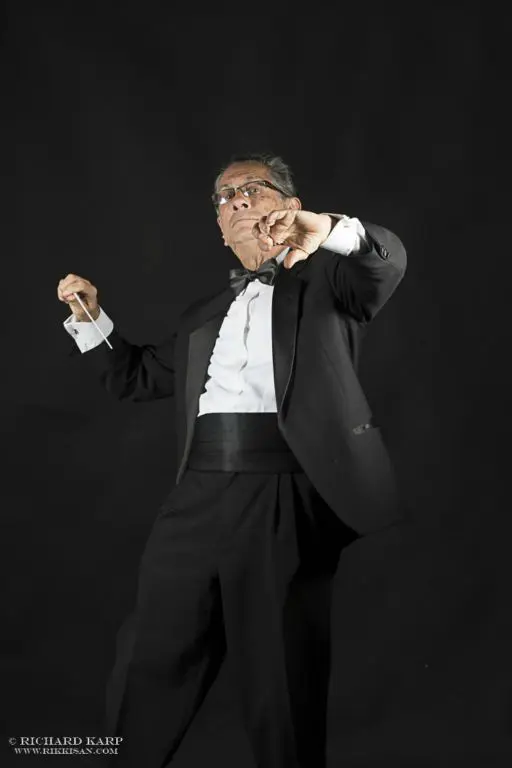 Kenneth Sarch
Violinist, Conductor, Teacher & Composer
An Award-winning International Musician in
New York - New Jersey Metropolitan area
Plays Holocaust Violin After 75 Years of Silence!
Bram Rodrigues was 18 years old, living in Amsterdam in 1941, playing his violin with friends in a band, when the Nazis invaded and began purging the Jews. As a young Jew, Bram and his father decided to escape. Bram gave his violin to his friend Johnny de Haan for safekeeping. He was caught by the Nazis, sent to Auschwitz, and murdered among the 1,1 million people killed there.
He never returned for his violin. That family kept the violin for 75 years until Johnny's son Wim found Bram's relatives living in New York because he discovered on the internet that Bram's nephew, David Groen, had published a book on the family's Holocaust experience; titled "Jew Face." This past summer, the Groen descendants traveled to Amsterdam for a ceremony in which the violin was returned to them!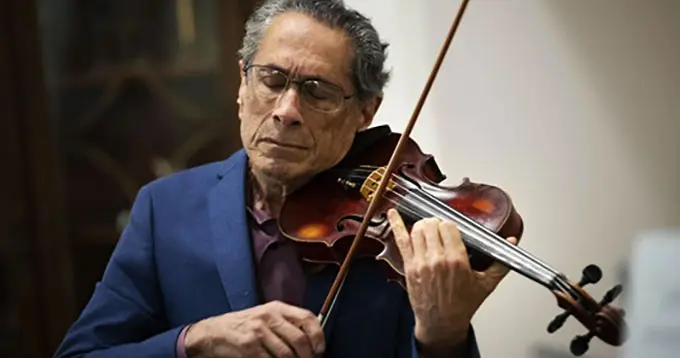 The violin, an early 20th century instrument with a Dutch label probably from France, was restored and played for the first time in 75 years this past December 6, 2019, by violinist Kenneth Sarch in a "Vanished Voice" Recital in Florida with all of Bram's relatives in attendance sponsored by Chabad of South Palm Beach. Sarch performed music from "Schindler's List" by John Williams, the "Nigun" by Bloch, and the "Sabbath Prayer" from 'Fiddler on the Roof.'
The concert, with a talk by author David Groen, Bram's nephew, was repeated on February 15, 2020, in Williamsburg, Virginia, where Sarch was a soloist with the Tidewater Intergenerational Orchestra. As a Jew, Sarch says that dealing with the Holocaust "always brings up very powerful emotions which this music brings forth. Playing Bram's violin seems preordained considering how details lined up; when I play Bram's violin, I feel that his soul is somehow within the body of the violin, and it is his voice that I am bringing out. In fact, the soundpost, a wood dowel set inside the body of the violin to enhance the vibrations, is called el alma in Spanish (the soul). " Sarch continued: "While there is sadness in the story of Bram and his violin, the program is uplifting because it gives meaning to Bram's life, comfort to Bram's surviving family, and hope for the future of mankind!"
Here's the complete Holocaust program:
Links to the performances:
Kenneth Sarch's Career
While teaching on the Music Faculty at Mansfield University in Pennsylvania, Dr. Sarch built the symphony orchestra into a dynamic, vibrant ensemble that impressed audiences and received well-deserved accolades, and he started a String Chamber Orchestra. He earned a reputation for adding flair to the performances with his showmanship and humor.
The Julliard graduate came to MU in 1995 to teach violin and viola and conduct. Over the years, he has been awarded two Fulbright Scholar Awards in music to teach, perform and conduct in Brazil and Bolivia, the 2003 PMEA Citation of Excellence in College Music Education, and USIA Arts America Grants to Panama, Brazil, Jordan, and Israel.
He was invited 12 times to conduct the Panama National Youth Orchestra Music Festival in Panama City.
He founded and was the first conductor of Orquesta Sinfonica Juvenil in Santa Cruz, Bolivia, and returned in August 2013 as Guest Conductor in a program of American music and Violin Soloist performing the Mendelssohn Violin Concerto to celebrate the orchestra's 10th anniversary.
In the U.S, Ken presented Recitals, String Workshops, Master Classes, and Clinics at state, regional, and national music conventions, universities, and music schools.
He has done numerous guest conducting appearances at District, Regional, and All-county orchestras in 12 states, as well as fulfilling international conducting and performing invitations in Brazil, Jordan, Israel, Venezuela, Bolivia, Panama, and Puerto Rico. Ken was named Interim Conductor for the Lycoming College Community Orchestra for Fall 2016.
He performed the world premiere of Panamanian composer Narcisco Garay's "Violin Sonata," written in 1901, and the Beethoven "Kreutzer" Sonata at the International Saint Malo Festival in Panama.
Ken served as president and state newsletter editor of the Pennsylvania/De String Teachers Association and was appointed National String and Chamber Music Program Chairs for MTNA (Music Teachers National Association).
He was Concertmaster of the Williamsport Symphony for 14 years, as well as Concertmaster of the Maryland Symphony, Hartford Civic Symphony, and the New York Orchestral Society.
Ken's publications reflect his scholarly curiosity and wide reach. They include: "Colonial Williamsburg Odyssey," for String Orchestra (six movements based on early American music), "Ahlan Sabaya Alfarah," ( Arabic Dance for strings with finger cymbals and drum); "March, Minuet, and Capriccio by Ben Franklin," based on Franklin's attributed manuscripts; "The Rink" and "The Bank Robbery," music for two of Charlie Chaplin's silent films.
Early in his career, Ken was Assistant to acclaimed violinist and teacher Roman Totenberg at Boston University and faculty at New England Conservatory and Shenandoah Conservatory.
Though he's "retired," Ken shows no signs of slowing down. A quick check of his website shows a full schedule of conducting and performing, and taking up the position as Concertmaster of the Bloomsburg Symphony and the Lycoming College Community Orchestra, conducting the Orquesta Sinfonica Juvenil he founded in Santa Cruz, Bolivia to include the South American premiere of Villafranca "Cinque" and Mary Lou Williams "Zodiac Suite" with Internationally acclaimed Jazz pianist Elio Villafranca in 2014.
He was appointed Conductor of the Lycoming College Community Orchestra For Fall 2016. Ken was invited by American String Teachers Association (ASTA) to present his Session "The Bouncing Bow Strokes" at the ASTA National Conference held in Tampa March 2 - 5, 2016, and his Session "101 Ways To Teach Vibrato" at the ASTA Conference in Salt Lake City in 2015 and invited to present his session on "A Review of Orchestral Bowings" at the ASTA National Conference in Pittsburgh - March , 2017. Dr. Kenneth Sarch was appointed Professor of Violin at Lycoming College and Director of the string summer camp at Lycoming College STRINGFEST.
Dr. Sarch leaves a long legacy of musical accomplishments in the United States and around the world!
2023                                                                                                                                                                                                                                                                                                                                                                                                                                                                                MAR 2 - VIOLINIST- Faculty Recital  LYCOMING College Honors Hall, Williamsport, PA 12 Noon  Amanda     Gunderson, pianist  Wieniawski Scherzo Tarantella                                                                                                                                                                                                                                                                                                                                                               MAR 5 - VIOLINIST - Lycoming college community orchestra - Trachte music center, williamsport, pa bill ciabattari, conductor  1;30 pm Brahms Symphony 1, academic festival overture, chabrier, espana, saint-saens marche militaire                                                                                                                                                                                                                                                                                                                                                                                                                                            mar 25 - violinist - northern neck orchestra; kilmarnock, virginia; michael repper, conductor   beethoven symphony 5, florence price symphony 1     middle school auditorium 7;30 pm                                                                                                                                                                                                                                                                                                               apr 16 - violinist - lycoming college community orchestra - community arts center, williamsport, pa  bill ciabattari, conductor works by brahms, ellington, williams, chabrier, galante  4:00 pm                                                                                                                                                                                                                                                                                   may 20 - violinist - norther neck orchestra; kilmarnock, virginia; michael repper, conductor   middle school auditorium  7;30 pm                                                                                                                                                                                                                                                                                                                                                                                                                      july 23 - 31  -  artist violin faculty - the international music institute; new orleans                                                                                                                                                                                                                                                                                                 aug 7 - 11   violin faculty  virginia beach youth orchestra music camp  
---
FEB 22 – VIOLINIST- Wiliiamsport Music Club: Vieuxteist Church Williamsport, PA 7:00 PM
MAR 3 - CONCERTMASTER - LYCOMING COLLEGE COMMUNITY ORCHESTRA: William Ciabattari, Conductor; String Orchestra works by NewBold, Whitacre, and Holst. Community Arts Center Auditorium,- Williamsport, PA 7:30 PM
MAR 5 - VIOLINIST- NORTHERN NECK ORCHESTRA : Michael Repper, Conductor –Lancaster Middle School Auditorium; Kilmarnock, Virginia - Haydn Cello Concerto in C Major, Mozart Symphony 41 "Jupiter"; Price Ethiopia's Shadow in America -  7:30 PM
APR 19 - VIOLINIST- Orchestra Straiton Productions : Michael Cavanaugh – MUSIC OF ELTON JOHN – Community Arts Center Auditorium - Williamsport - 7 PM
APR 23 - CONCERTMASTER - LYCOMING COLLEGE COMMUNITY ORCHESTRA: William Ciabattari, Conductor; Franck Symphony in D Minor, Community Arts Center Auditorium,- Williamsport, PA 7:00 PM
MAY 13, MAY 14 - VIOLINIST- NORTHERN NECK ORCHESTRA : Michael Repper, Conductor –Lancaster Middle School Auditorium; Kilmarnock, Virginia - Coleridge-Taylor Ballade, Farrenc Symphony No. 3, Mendelssohn Violin Concerto -  7:30 PM
AUG 18 - 21 - STRINGFEST String Camp: Williamsburg, VA; Co-Director and Faculty ; String students ages 10-18, Collegiate and  Adult
      daily lessons, chamber music, workshops, Discussions, Public Performance
SEP 23 - First Violin NNO String Quartet - Dvorak, Mozart, Haydn, Grant Still, Schubert, Dvorak - Fund Raising Concert; Kilmarnock, VA
OCT 1 - CONCERTMASTER - LYCOMING COLLEGE COMMUNITY ORCHESTRA: William Ciabattari, Conductor; Dedication concert for new Trachte Music Building; Lycoming College, Williamsport, PA 7:00 PM
OCT 15 - VIOLINIST- NORTHERN NECK ORCHESTRA : Michael Repper, Conductor –Lancaster Middle School Auditorium; Kilmarnock, Virginia - Mozart Horn Concerto No.4, Bizet L'Alesienne Suites -  7:30 PM
NOV 7, 8, 9 - CONCERTMASTER - SOUTHWEST SYMPHONY ORCHESTRA: Mark Jelinek, Conductor; Music from Disney Films - Hobbs Auditorium,- Hobbs, New Mexico 7:00 PM
NOV 18 - CONCERTMASTER - LYCOMING COLLEGE COMMUNITY ORCHESTRA: William Ciabattari, Conductor; Overtures and Arias, Community Arts Center Auditorium,- Williamsport, PA 7:30 PM
DEC 11 - First Violin  String Quartet - Handel Messiah Sing - A - Long; Wellsboro, PA  St. Paul Episcopal Church; 2:30 PM
MAR 31 - CONCERTMASTER - LYCOMING COLLEGE COMMUNITY ORCHESTRA: William Ciabattari, Conductor; Covid Concert outdoors under a tent-LYCOMING COLLEGE - Williamsport, PA 4:00 PM
APR 6 – HOLOCAUST CONCERT – Temple Beth Am, Philadelphia (Frank Lloyd Wright designed) Pianist Rob Stabinsky with author David Groen
APR 24 - CONCERTMASTER - LYCOMING COLLEGE COMMUNITY ORCHESTRA: William Ciabattari, Conductor; - LYCOMING COLLEGE Tent Williamsport, PA 4:00 PM
JUN 5 - VIOLINIST- NORTHERN NECK ORCHESTRA : Michael Repper, Conductor –Kilmarnock, Virginia 1:00 and 3:00 PM Symphonies by Mozart, Sammartini and Mendelssohn, works by Price, Barber and Anderson
JUN 19 -  RECITAL: Violin students of Kenneth Sarch - Sides Music Center, Williamsport, PA -  Rob Stabinsky, Pianist   12:00 PM
SEP 28 – VIOLIN RECITAL- Wiliiamsport Music Club Annual Dinner : Fiocco, Sarasate and Sarch Teodolinda  – Faxon-Kenner Methodist Church Williamsport, PA 6:00 PM
SEP 30 - VIOLINIST- Orchestra Straiton Productions : Michael Cavanaugh – MUSIC OF ELTON JOHN – Community Arts Center Auditorium - Williamsport PA 7:00 PM *This concert has been postponed until April 19th, 2022
NOV 3 - CONCERTMASTER - LYCOMING COLLEGE COMMUNITY ORCHESTRA: William Ciabattari, Conductor; Dvorak Symphony 8 G Major, Community Arts Center Auditorium,- Williamsport, PA 7:30 PM
NOV 6 - VIOLINIST- NORTHERN NECK ORCHESTRA : Michael Repper, Conductor –Good Luck Vineyard; Kilmarnock, Virginia - Beethoven Symphony No. 1. Marquez Danzon No. 2, Gershwin Rhapsody in Blue 7:30 PM
NOV 16 – VIOLINIST- Wiliiamsport Music Club: Amy Beach Violin Sonata with pianist Kristin Ivers– Faxon-Kenner Methodist Church Williamsport, PA 7:00 PM
NOV 20 - CONCERTMASTER - Bloomsburg Symphony Orchestra, David Tedford, Conductor – Beethoven, Elgar, Copland, and more- Mitrani Hall
Colonial Williamsburg Odyssey for String Orchestra