Many students of Dr. Sarch are successfully concertizing and teaching. His students are prize-winners in the state ASTA (American String Teacher's Association) Solo Competition and have been accepted at the finest music schools, including Juilliard, Curtis, Oberlin, Eastman, and Indiana. Former students play in major symphonies, teach in schools and universities throughout the United States, and perform in such outstanding ensembles as Chester String Quartet, Orpheus Chamber Orchestra, Concertmaster - New York City Ballet Orchestra, 8th Blackbird, Washington, DC Opera Orchestra, Toronto Symphony, Maryland Symphony, Knoxville Symphony, Finger Lakes Symphony, LaVerne University Violin Professor and eclectic ensembles such as Barrage, Nothin' Fancy Bluegrass, and Pedro Giraudo Tango Quartet.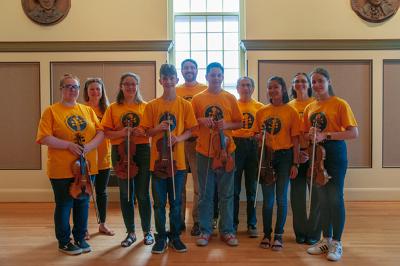 Dr. Sarch has presented numerous Master Classes at fine music schools both nationally and internationally, including the universities of Miami, Alabama, Penn State, Richmond, Boston University, Converse College, Hartt School of Music, Longy School of Music, New England Conservatory, and universities in Panama, Jordan, Bolivia, and Brazil. Dr. Sarch has presented string clinics and workshops at conventions, conferences, and schools throughout the US. Including four invitations from American String Teachers Association to present at the National Conventions in Tampa, Atlanta, Salt Lake City and Pittsburgh.
Kenneth Sarch earned his Doctor of Musical Arts (DMA) in Performance from Boston University, where he taught on the faculty as Assistant to Roman Totenberg for eight years.  He graduated from Juilliard with B.S. and M.S degrees studying with Ivan Galamian, Dorothy DeLay, and Sally Thomas. He also studied with Robert Koff of the Juilliard String Quartet, and Chamber Music with Robert Koff, Rudolf Kolisch, Joseph Gingold, and Joseph Silverstein. He was awarded the Artist Diploma from New England Conservatory, where he also taught on the Music Education faculty.
His awards include two Fromm Foundation Tanglewood Fellowships, four USIA (United States Information Agency) Arts America Grants to Central and South America, Israel and Jordan, and two Fulbright Scholar Awards to Brazil and Bolivia. He founded the first symphony orchestra for the city of Santa Cruz, was invited twelve times to conduct the Panama National Youth Orchestra, performed, conducted, and gave workshops and master classes in Israel, Jordan, Panama, Bolivia, Brazil, Canada, and Europe.
In 2003, he was awarded the PMEA (Pennsylvania Music Educators) Citation of Excellence at the college level in Music Education. A frequent soloist with orchestra, chamber music (including 1st violin of the Boston String Quartet and Shenendoah Piano Trio), Concertmaster of Maryland Symphony, Johnson City Symphony, Hartford Civic Symphony, and Williamsport Symphony, played 1st violin in Hartford Symphony, American Symphony under Stokowski, Berkshire Orchestra at Tanglewood under Bernstein, Ozawa, Tilson-Thomas, and Foss, New Jersey Symphony, Orchestra of Southern Finger Lakes, and Northern Neck Orchestra in Virginia round out his illustrious career. Dr. Sarch has taught on the faculties of New England Conservatory, Boston University, Longy School of Music, East Tennessee State University, Shenandoah Conservatory, Mansfield University and Lycoming College.
"My teaching philosophy is driven by the desire to have my students arrive at a higher level of accomplishment than I have achieved. This means that I offer all I know and can do and then send them out to discover more, that I provide opportunities for the students to learn from others and from each other, that I set standards for the students that are ever higher but always within reach, and that students understand that the striving for Perfection is a journey and a goal, not an absolute. My motto: "Hitch Your Wagon to a Star." I tell my students that if they aim high and fall short, they are much better off than if they set their sights short, to begin with.
I believe in teaching by example as much as by instruction. At times, students need precise directions and information to succeed, but at other times they need emotional support, confidence, and encouragement. Self-discovery is often more valuable than fact-feeding.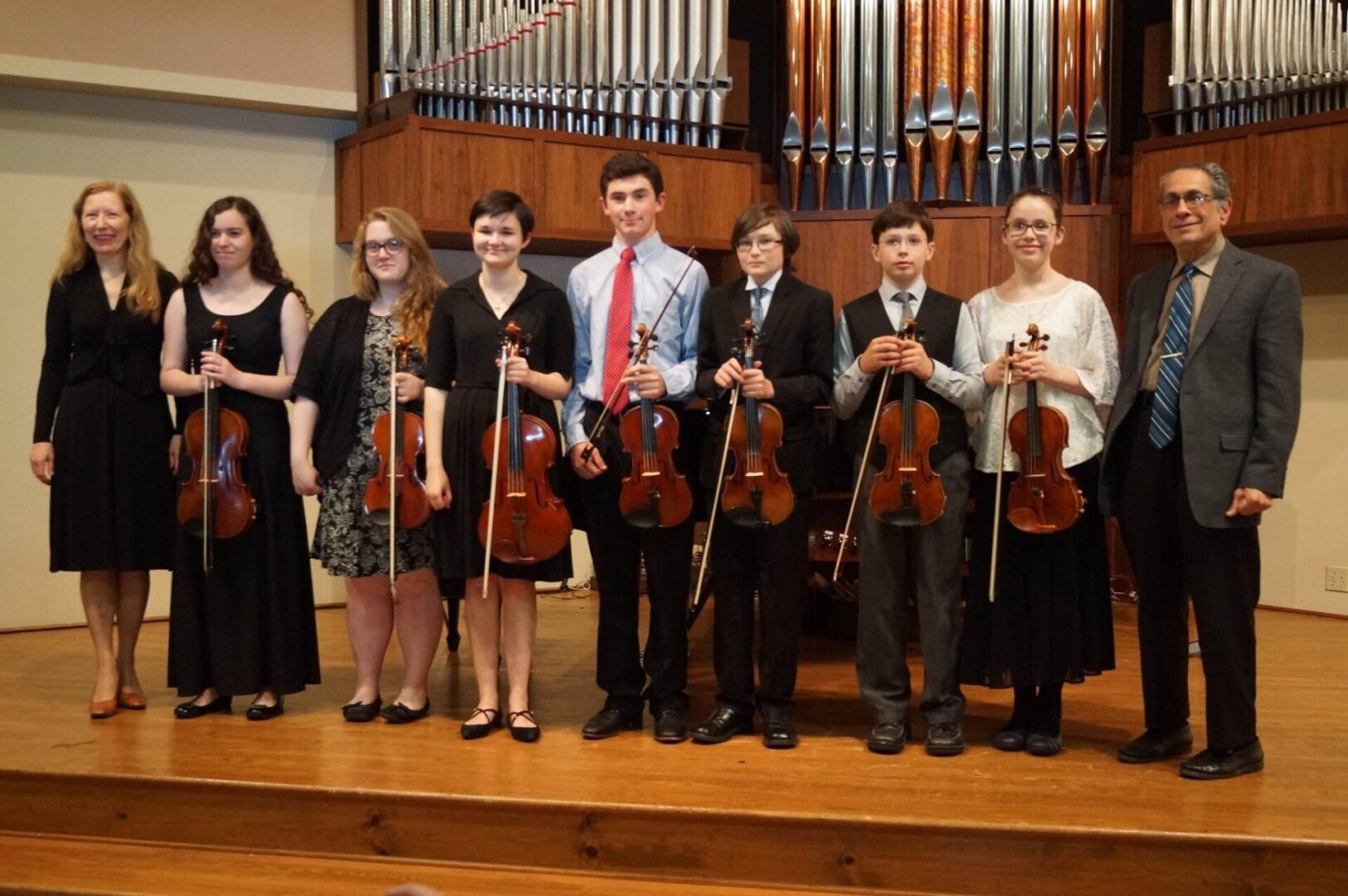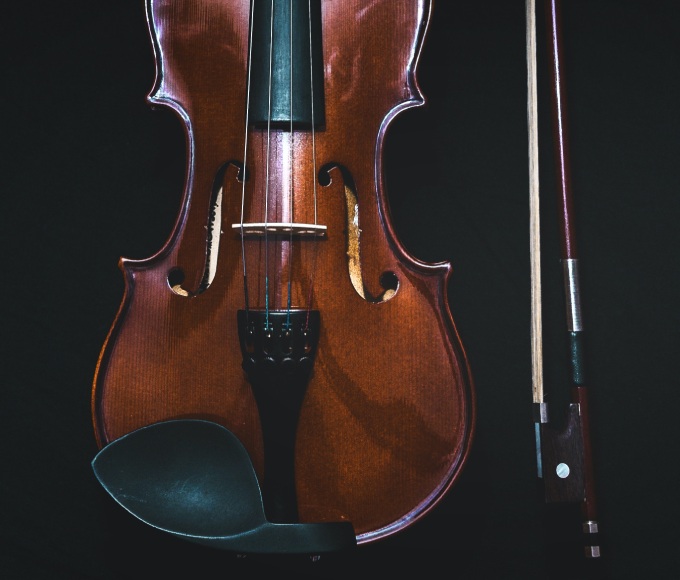 It was through my interest in Music Therapy that I learned two lesson types: A Teacher-centered lesson and a Student-centered lesson. I find that a teacher should know when to apply each approach. The teacher-centered lesson means that the student achieves goals and standards set by the teacher, tries to please the teacher to win the teacher's approval. A student-centered lesson addresses what the student needs in order to gain confidence, learn what is necessary, grow and mature to get to the point where a teacher can direct them onward. A simple example might be that I assess that a student needs to develop a better vibrato, but the student also needs encouragement and support to study harder for an upcoming midterm exam. Taking a momentary break from the scale routine to ask how the studying is going and offering assurance that it will turn out well can make a real difference in how the student will approach music - the whole person is being considered, not just the fingers. One of my teachers, Ivan Galamian, thrived on the teacher-centered approach while another former teacher, Dorothy DeLay, often considered the student personally. Itzhak Perlman describes how he was socially shy and self-conscious because he walked with crutches. When Miss DeLay asked if he was going to a student party, he confessed that he wasn't sure that his colleagues liked him. Miss DeLay then told him a list of attributes that made him a really loveable person – like his wit and sense of humor. Perlman went to the party, had a great time, and gained personal confidence from what his teacher had said!"